Exercises for Building Technique
_____________________________________
Piano Fingering
___________________________________
C Position Warmup
Movie in Thirds Warmup Exercise
Arpeggios

– stretch your fingers! – link this exercise to your Major scale for the week!

Arpeggios are unique piano exercises designed to stretch your fingers and strengthen your wrist. An arpeggio can be described as a 'broken chord' or a chord played one note at a time. When playing arpeggios, you play the root, third, fifth and octave of a major scale.

Click this link for more information on arpeggios.

Arpeggios will help a lot with short and long leaps on the piano. This is because you are skipping 1 or 2 notes in the process.

When practicing arpeggios, try not to start out too fast, but play them at a moderate pace and then go faster as you become more comfortable at a specific speed. This you will do with both hands at different times in descending and ascending order.

Below is an illustration showing how arpeggios are played on the piano in the key of C major. The C major arpeggio includes the letters C, E, G and C (octave).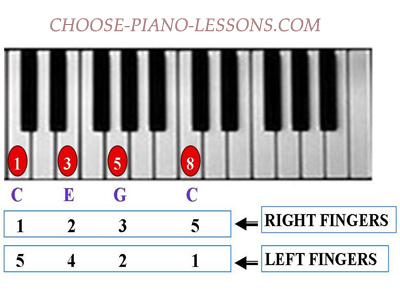 MAJOR SCALES
Major Scales Right Hand Only 2 Octaves
Major Scales Left Hand Only 2 Octaves
–
MINOR SCALES
Natural, Melodic, Harmonic Minor Scales
---