Thank you to all of the parents who came out to YIS on such a gloomy day yesterday to learn about Twitter! We had a great discussion, and hopefully helped clarify what Twitter is, why it's so powerful, and how we are using it here at YIS.
As usual, we started with a video, Common Craft's Twitter in Plain English:
This short video prompted a great discussion centered around the following ideas:
Networks and Connectedness: For many users, the most powerful thing about Twitter is the people and organizations you can connect with on a personal level, and how those connections help you build a network of people that are interested in the same kinds of things you are, and can support you (as you support them) in your learning goals. We talked about the way that Brian uses Twitter to connect with other Librarians in international schools to find great visiting authors, and how he can actually connect with those authors in person if they're also on Twitter (which many children's book authors are, because it's a great way to build an audience).
Trivial Content: The great thing about Twitter is that it appears, at first glance, to be all about trivial content – like "I just ate a peanut butter and jelly sandwich" kind of updates, but it's not. The power of Twitter is the links that are shared. You can't fit much into 140 characters, but you can fit a brief descriptive statement and a link to a blog post, website or article. Once you have built a network of like-minded people on Twitter, most of their tweets will share great resources and links that are relevant for you. We talked about Kim's recent experience with a research article that wasn't downloading properly from the organization's website, and after one quick tweet, only a few minutes later, someone else had the link to the same article from another location. This kind of thing happens all the time on Twitter.
Balance: When first learning about Twitter, it seems like you would always have to be following everything that happens, and constantly be on your computer or phone to track when people update. Thankfully, this is not the case. Although at first it seems daunting to have so much information coming to you, over time you learn that you don't need to constantly check your Twitter feed. You start to think of Twitter as a river that you can stick your toe into whenever you're interested in learning something new. As long as you have built a good network of people to follow, the interesting and relevant things that you miss when you're not online always come back around again.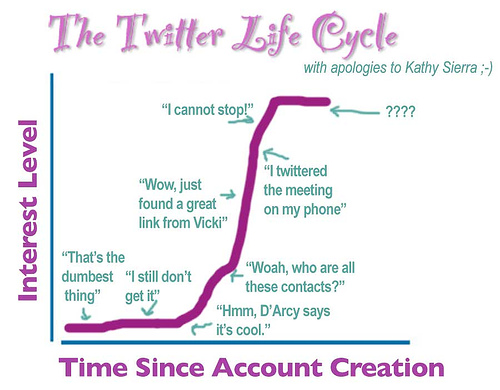 Search & Location: One of the great questions that came up was if you can search Twitter (you can), and if you can filter your search by location (you can). So, if you're looking for great hiking spots around Yokohama, you can actually search for hiking and filter the results to only include tweets from within Yokohama! Of course, this can be a bit of a challenge if you don't speak Japanese, because lots of local tweets will (of course) be in Japanese. There are tons of people in Japan that tweet in English, though, so don't give up just yet! Here's another Common Craft video that explains how Twitter search works:
Finding Your Tweeple: It's a bit daunting to find people you want to follow on Twitter when you first start. One great way to get going is to find someone you know and respect (could be a friend, an author, a celebrity, an athlete, whoever) and then take a look at who they're following. Usually the people you want to follow also follow people you'll be interested in. People can also create "lists" on Twitter of individuals they want to follow as a group. Looking through other Twitter lists of people you respect can also help you find great people. Last year we talked about using Kim's Japan Twitter list to keep informed after the 3/11 earthquake. For those of you interested in education, here's a blog post for the YIS teaching staff to find great people to follow on Twitter.
Twitter and YIS: We have a number of teachers and classrooms at YIS sharing on Twitter! You can keep up with them using this list, which also includes announcements from the YIS website and  the Middle and High School Daily Bulletin. Our students and teachers are connecting with other students and teachers around the world to share, collaborate and learn with others.
Next Meeting
Our next Parent Technology and Literacy Coffee Morning will be on Wednesday, November 2nd at 9:15 am in the Cafeteria. We'll focus on using RSS to keep up with your child's learning at school. RSS is a really simple way to get all of the updates from a website or blog to come to you – kind of like e-mail for websites. Now that all YIS teachers have a classroom blog, this is a great way to stay informed about what's happening at school. Please note: This will be a hands-on session, so please bring your laptop with you and we'll help you set up your very own RSS reader!
Image Credits